Vantage Range
First used in 1951 on a high-output engine option for the DB2, Vantage was quickly established as a model in its own right. Highlights include the William Towns-designed V8 Vantage, spectacular twin-supercharged V600 Le Mans and the much-loved V8 Vantage.
Available in V8 and V12 formats, the Vantage is also available as a coupe or convertible. In addition Aston Martin has released a hardcore version for pure track enthusiasts with the Vantage AMR range.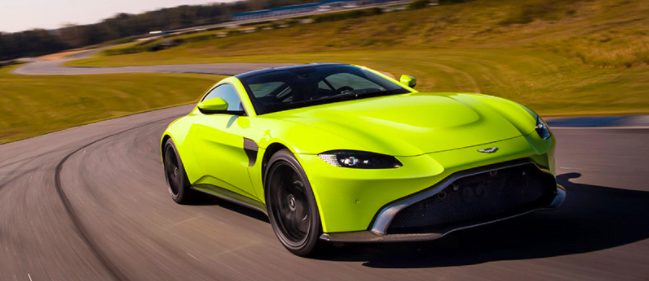 Succeeding the current popularity of the Vantage range is the all new Vantage from Aston Martin. New head and tail lights along with an overall minimalist image represent the new design language from the British Sports car maker.
A 4-litre twin turbo V8 powers this new "predator"from 0-100 kph in 3.5 seconds. An ideal 50:50 weight distribution allows for balanced power delivery of its massive 510PS at 6000rpm and 685Nm to be delivered to the rear wheels via an 8-speed ZF transmission.
For the first time on an Aston Martin the new Vantage also features an Electronic Rear Differential (E-Diff). This differential is linked to the car's electronic stability control system, so it can understand the car's behaviour, and react accordingly to direct the engine's power to the relevant wheel. Unlike a conventional LSD, it can go from fully open to 100% locked in a matter of milliseconds. At higher speeds, the Electronic Differential's speed and sensitivity of response enables the system to take very fine control of the car's dynamic behaviour.
Standard Aston Martin affair allows for a range of bespoke options to be customised to an already extensive list of standard equipment. These include keyless start/stop, tyre pressure monitoring system, parking distance display, park assist and front and rear parking sensors. The In-Car Entertainment system - controlled and viewed via a centrally mounted 8" LCD screen - comprises of the Aston Martin Audio System, Bluetooth® audio and phone streaming, iPod®, iPhone® and USB playback and an integrated satellite navigation system.