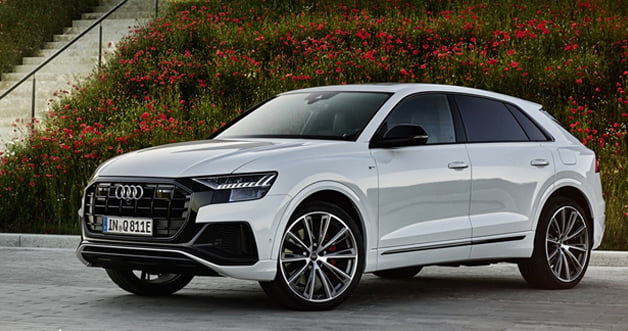 Audi brings its flagship Q8 SUV to India; INR 1.33 Crore
---
Audi India begins the year from the top down with the launch of its flagship Q8 SUV. Some serious pedigree can be attached to its platform with relation to its direct sibling Q7 SUV as well as the Bentley Bentayga, Lamborghini Urus and Porsche Cayenne SUVs. This raises the expectation a lot for the Q8 and from what we gather, it delivers.
On the outside, the large imposing hexagonal grille covers a large area of the front fascia. Contrasting it are the sharp LED Matrix headlights and wide stance front bumper inserts.
Its profile shows a sloping roof line, giving it a sportier appearance than the Q7 SUV Cars and carries with it an unmistakable set of gorgeous 20-inch alloy rims. Unique points include its frame less doors and ensuring a spacious cabin is its gigantic panoramic sunroof.
The cabin is fitted with various touch screens and essentially digital with a host of features as can be expected from a flagship luxury automobile. 3D navigation and Audi's virtual cockpit highlight the cabin's interior.
Somewhat indicative of the future is Audi India presenting this as a petrol only model. Powering this beautiful SUV is a 3.0 litre V6 engine producing 340 hp and 500 Nm of torque. This propels the two plus tonne SUV to 100 km/h in 5.9 seconds. Incredible!
For those looking for individuality, there are 54 exterior colours and 11 interior trim levels to select from. The price for this impressive flagship model from Audi starts at INR 1.33 Crore (ex-showroom).