Technology
Bentley and Bang & Olufsen BeoSonic interface
The interface features an eclipse design, and by moving a digital white marker the user chooses between the four different spaces. This enables the user to adjust the music according to their current mood – with a colour palette behind the eclipse reflecting the chosen sound mode. Surround intensity can also be adjusted with a pinching gesture, in the BeoSonic display. Additional settings can optimize the whole system for front or rear seat passengers.
The Bang & Olufsen sound system for Bentley has been developed in close collaboration between Bentley's and HARMAN International's design and audio engineering teams leading the design of Bang & Olufsen soundsystems for Bentley. The system features 16 active loudspeakers and a powerful 1,500 watt BeoCore DSP amplifier ensuring an impressive high-quality sound.
Customers selecting this system also benefit from the iconic design of the speaker grilles – finished in aluminium with holes drilled in variable sizes and angles and shaped to a uniquely-designed Fibonacci hole pattern. The angled holes are placed as tightly as possible to achieve the best acoustic transparency and to build a contrast to the glass-pearl blasted surface.
Another highlight is the LED illumination of the holes, which welcomes the driver when the system turns on. The Bang & Olufsen logo completes the unique speaker design and is debossed into the leather next to the grilles.
The new Bentley Continental GT also features laminated acoustic glass windscreen and side windows, reducing exterior noise ingress to ensure an optimal audio experience in the cabin environment.
Ashley Blakemore, Head of Infotainment and Audio at Bentley, said: "The BeoSonic user interface allows you to change equalization based on your mood, which means fewer inputs are required to achieve their desired audio experience. When changing between sound spaces, you will instantly hear the difference: you can change from a very precise and narrow sound to a much more open and surrounding listening experience."
Source: Bentley
Bentley In-Car Connectivity
Bentley just announced the launch of Advanced Connectivity – the world's first super-fast, reliable and secure in-car WiFi system.
Bentley customers can now benefit from uninterrupted mobile network coverage while travelling, providing a fully functioning and fully connected executive office on the move.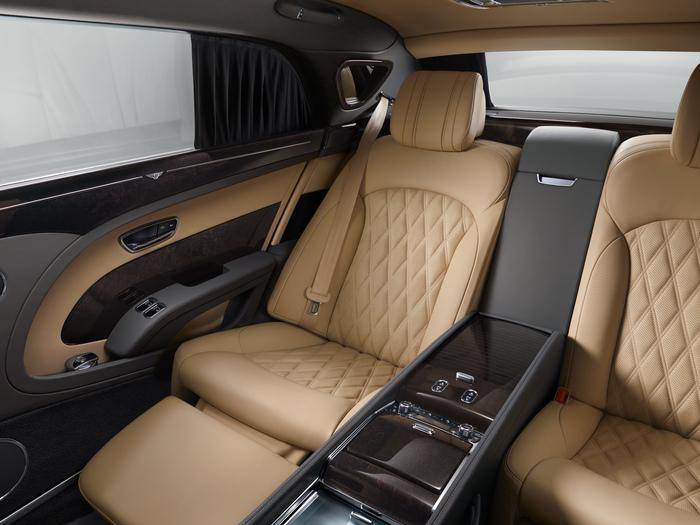 For example, when using the Bentley Advanced Connectivity WiFi system while traveling at speeds of 110 km/h, a passenger is able to access a number of simultaneous entertainment and business applications – including high-definition video streaming across multiple devices – with uninterrupted service quality.
Bentley customers simply access the Bentley Advanced Connectivity system via a dedicated app on their smart phone.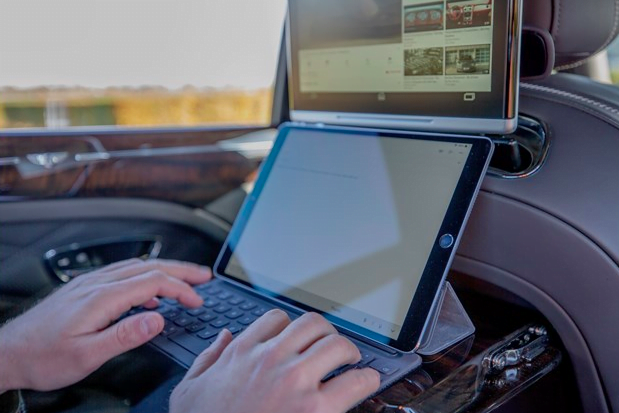 This new super-fast WiFi service is available in all Bentley models in 2019.
Bentley Advanced Connectivity provides a unique, reliable, super-fast connected car service.
Users will benefit from Bentley Skype for Business and significant virtual office applications, such as the ability to access and edit files on the go, hold vital video conferences, conduct multiple meetings and be present for crucial discussions, all in a secure virtual environment.
The super-fast and highly reliable connection also offers customers new, unrivalled levels of in-car entertainment. Bentley Advanced Connectivity allows online video services to stream content uninterrupted in the car, for a truly luxury viewing experience.
How Bentley Advanced Connectivity Works
Bentley conducted an exhaustive international search to find the perfect partner for its in-car connectivity requirements, and has enlisted global communications company, Viasat, to provide the world's best and most secure in-car technology for its customers.
Bentley Advanced Connectivity is a multi-channel virtual private network (VPN), which can aggregate up to three mobile network operators on one super-fast signal. The connectivity system is placed discreetly inside the Bentley's boot lid, with the router connected to the on-board DC power supply.
The WiFi router links to a broadband connected hub located at a static site. This hub then links the Bentley system to the broadband connection at the host site, for unparalleled connectivity, reliability and security.
Viasat is recognised internationally for having managed 14 million WiFi hotspots; for having operated a managed hotspot network in nearly 30 countries; and for bringing satellite-enabled in-flight WiFi to major commercial and government aircraft worldwide.
Source: Bentley