488 Pista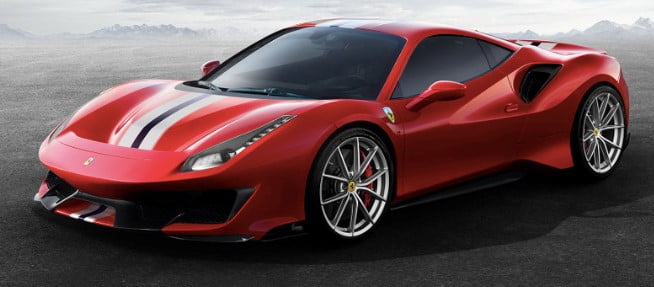 The 488 Pista(meaning 'track' in Italian) takes inspiration from the successful 488 GTE and 488 Challenge race variants. The car has received many mechanical and exterior modifications in order to make it more capable than the 488 GTB. The 3.9 L twin-turbocharged V8 engine now produces 710 bhp and 770 N⋅m of torque. This can be attributed to the use of a new camshaft, a larger intercooler, strengthened pistons, titanium connecting rods and Inconel exhaust manifolds in the engine borrowed from the 488 Challenge. Revisions to the 7-speed dual-clutch transmission also allow for shifts in 30 milliseconds when drivers enter race mode.
The most noticeable exterior changes for the Pista are at the front end. Air passes through the ducts in front bumper which direct it through a large vent in the hood creating more downforce over the nose at high-speeds. Helping boost performance further, the air intake tunnels have been moved from the flanks to the rear spoiler area to optimize clean air flow. Other exterior changes include underbody diffusers and the rear diffuser borrowed from the 488 GTE. In total, the car generates 20% more downforce than the 488 GTB.
The interior is where carbon fiber and alcantara are used throughout in order to reduce weight. Overall, the car is 91 kgs lighter than the 488 GTB due to the use of carbon fibre on the hood, bumpers, and rear spoiler.
The car also incorporates an Side-slip Angle Control system having an E-Diff3, F-Trac and magneto rheological suspension in order to improve handling at high speeds. All of these modifications allow the car to accelerate from 0–100 km/h in 2.85 seconds, 0–200 km/h in 7.6 seconds and give the car a maximum speed of 340 km/h.