Motorsport
Pagani Zonda GR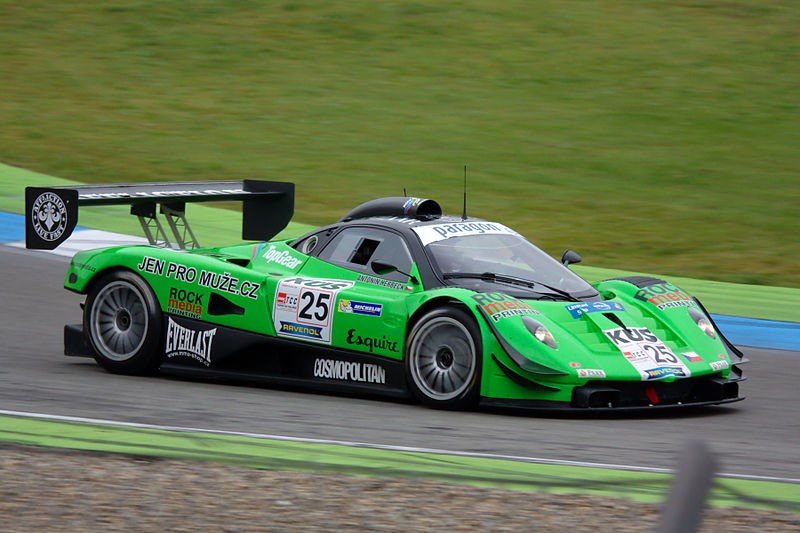 Development of the Zonda GR started in December 2002. At this stage the Zonda was nearly four years old, but had yet to be entered in major motorsports. Tom Weickardt, owner of American Viperacing, Toine Hezemans, owner of Carsport Holland, and Paul Kumpen, owner of GLPK Racing, created a new company, Carsport Zonda, to build a racing version. They secured exclusive rights to develop, build and sell competition Zondas from Horacio Pagani, and the first GR was completed at Carsport's facility in Modena within months.
The Zonda GR is based on the Zonda S. It was built on the same carbon fiber chassis, with tube frames in front and back. The bodywork was modified to include front and rear diffusers and louvers for improved aerodynamics. The car was 2 meters (6.6 ft) wide, in accordance with the regulations of the FIA and ACO. The car's weight was reduced to 1,100 kilograms (2,400 lb), and a new suspension was designed. New wheels and brakes were also specified. The engine was equipped with an enlarged radiator, and the engine and gearbox also had new oil coolers.
The performance of the Zonda GR is well beyond that of the stock car. The car sprints from 0 to 100 km/h in 3.3 seconds and the engine produces around 590 hp at 5,800 rpm and 786 N⋅m of torque at 4,300 rpm with a redline increased to 7,500 rpm.
The car was entered into the 2003 24 Hours of Le Mans, but retired after ten laps due to a gearbox failure.