Huayra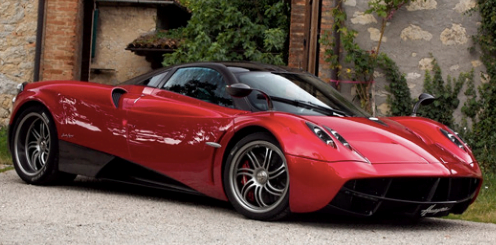 The Pagani Huayra (Italian pronunciation: [ˈwai̯ra]) is an Italian mid-engined sports car produced by Pagani. Succeeding the company's previous offering, the Zonda, it had a base price of €850,000. It is named after Huayra-tata, a Quechua wind god.
The Huayra was limited to just 100 units as part of Pagani's agreement with engine supplier Mercedes-AMG. The Huayra uses a twin-turbocharged 6.0 L V12 engine developed by Mercedes-AMG specially for the Huayra, which produces 730 hp and 1,000 N⋅m (738 lbf⋅ft) of torque. Its top speed is about 383 km/h and it has a 0-60 mph (97 km/h) acceleration time of 2.8 seconds. The Pagani Huayra uses a seven-speed sequential gearbox and a single disc clutch.
New technology led to the Pagani Huayra incorporating active aerodynamics. It is capable of changing the height of the front from the ground and independently operating four flaps placed at the rear and front of the car. The behavior of the flaps is managed by a dedicated control unit that is fed information from systems such as the ABS and ECU, which pass on information about the car's speed, yaw rate, lateral acceleration, steering angle and throttle position.
Variants to the Huayra include several special editions as well as the Huayra BC and the Huayra Roadster