718 Cayman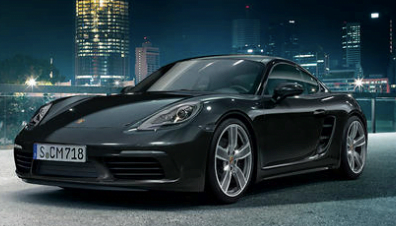 Introduced in 2016 for the 2017 model year, the Porsche Boxster and Cayman were renamed the Porsche 718 Boxster and Porsche 718 Cayman, reviving the historic 718 moniker while switching engines from naturally-aspirated flat sixes to small-displacement flat-four turbocharged units. The new 718 Cayman was also repositioned with an entry price lower than that of the 718 Boxster, in keeping with Porsche's higher pricing for roadster models.
The Cayman is now available in two variants; the Cayman and Cayman S. Powering the Cayman is a mid mounted 2.0 litre turbocharged boxer engine producing 350 hp.  Transmission to the rear wheels is supplied by your choice of a manual or Porsche's PDK automatic transmission. 100 km/h is achieved in just 4.9 seconds. The Cayman S adds more performance from a 2.5 litre turbocharged engine and produces 400 hp while reaching 100 km/h in just 4.4 seconds.
The exterior is low, wide and sleek with signature Porsche design language.