Porsche Panamera launches the Panamera Turbo and Turbo executive in India
0-100 kph in 3.8 seconds(Turbo) and 3.9 seconds (Turbo Executive)
4.0 liter Turbocharged V8 engine - good for 550 hp and 770 Nm of torque
Prices starting at 1.93 crores for the Turbo version and 2.03 Crore for the Turbo Executive(ex-showroom, Maharashtra respectively
German automaker Porsche today announced the arrival of its second generation Panamera in India with two versions - a Panamera Turbo and a slightly stretched Turbo executive version for those appreciating a bit more legroom in the rear.
The Panamera presents itself in a (twin) turbo format initially with a 4.0-litre V8 engine capable of producing 550 hp and 770 Nm of torque making it extremely quick with a 0-100 kph sprint in just under 4.0 seconds. All of this power is translated via a new 8-speed Porsche Doppelkupplung (PDK) transmission.
Interestingly, the Panamera turbo is the first Porsche to be equipped with a new cylinder adaptive cylinder control system. This allows the 8-cylinder to run on 4-cylinders under partial load and can switch back and forth such that the driver doesn't notice except for the improved fuel economy claimed to be as high as 30 percent. It works on the basis of a two stage sliding cam system and essentially runs on 4 cylinders between 950 and 3,500 rpm while the torque remains below 250 Nm.
Rumour has it that the Panamera Turbo S E-Hybrid will make a possible entry to India later in the year amongst other variants from the Panamera offering customers a variety of powertrains to choose from.
From an exterior design perspective, the first generation Panamera faced a fair bit of criticism, however, more than making up with its well-renowned attributes of performance and handling. This second generation Panamera has very evidently used the Porsche family to create a silhouette which makes the new Panamera unmistakably Porsche while still ensuring key performance and handling characteristics have not been compromised.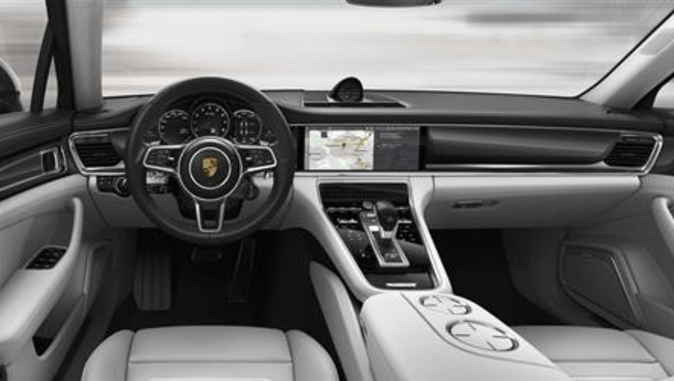 Adding to the handsomely muscular exterior is a brand new interior with plenty of design updates. A high resolution 12-inch touchscreen display integrated into the center of the dashboard provides a host of functions to select from. The center console has also been updated to reflect touch sensitive buttons for key functions surrounding the gear selector. In the rear, passengers have access to their own touch screens as well and with the executive variant additional legroom thanks to a wheelbase extension of 150 mm. Rounding up the Porsche advanced cockpit is the traditional Porsche tachometer with high-resolution screens on either side showcasing maps along with a host of other information.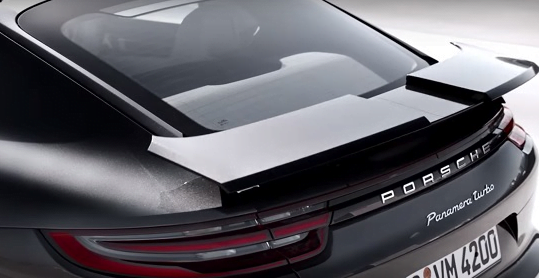 Additional design details include an update on the concealed spoiler - an effortless two stage deployment of its spoiler where the wing remains concealed and then rises and splits as it increases in length to provide additional surface area. Adding to this is rear axle steering where by the rear wheels turn to increase stability and agility depending on driving behaviour. Porsche's traction and dynamic systems assist in ensuring the experience is that of a sports car while also being able to carry 4 passengers in comfort.
Adding to the shooting brake Sport Turismo by Porsche, the new Panamera Turbo with its updated design language and newer technology is sure to capture the hearts of many while providing a seriously comprehensive alternative to the likes of existing high performance full size luxury cars such as the Maserati Quattroporte and Aston Martin Rapide.