Wraith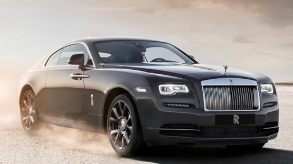 The Rolls-Royce Wraith is a handmade four seat luxury grand tourer based on the chassis of the Rolls-Royce Ghost. The name Wraith comes from an old Scottish word meaning image of a ghost or spirit, a name it shares with the 1938 model by the original Rolls Royce company.
You can select between the standard Wraith and the Wraith Black Badge, a bolder version of the Wraith. The Wraith is powered by a 6.6 litre twin turbo V12 engine producing 623 hp and 800 Nm of torque. The Wraith Black Badge uses a slightly more tuned version capable of producing the same 623 hp, however produces 870 Nm of torque.
Unique to the wraith as grand tourers go are its suicide doors.