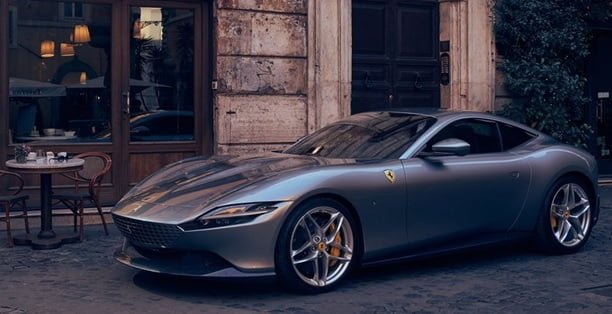 Ferrari is a brand that conjures images of red cars, racing, and rarity. With an annual production having just touched 10,000 units, the Maranello based brand still remains exclusive. And impressively it has ensured its name is (well) recognised the world over with a religious like adoration towards the prancing horse and all that it stands for.
Oceans of red can be seen at various F1 races despite their dismal performance in the recent past.
Adding to their line-up of high performance machines is a Grand Tourer called the Ferrari Roma. Just launched in India, this beautiful mid front-engined 2+ Coupe (as Ferrari calls it) has a starting price of INR 3.61 Crore. While it is based on its sibling Portofino, the Ferrari Roma comes in as a hard-top only.
The Ferrari Roma Cars presents clean exterior lines and sleek headlights to match. Seems like a minimalist approach, yet the details become apparent at closer inspection. It's swooping profile tapers to beautifully rounded rear flanks. Matching colour bumpers makes for a well planted machine and complimenting quad exhausts.
The cabin of the Ferrari Roma presents unique design elements with individual capsule seating for the driver and passenger. Thus symbolising the importance of the passenger as a navigator/co-passenger involved in the journey.
A complete digital cluster can be seen when driving accompanied by an 8.4" vertical central display. neat feature added is an added 8.8" touch-screen dedicated to the passenger.
This allows the passenger to view various items including the car's performance, satnav, choosing music and managing the air conditioning.
Power delivery comes in the form of a 3.9 litre-twin-turbocharged V8 engine which incidentally has won the International Engine of the Year award four years running. 612 hp brings it to 100 km/h in just 3.4 seconds via an 8-speed DCT gearbox introduced on its high performance SF90 Stradale model.
Summing things up for this launch is a beautifully made short film of two Ferrari Romas dashing through the streets of Rome.
A rather magical rendition of a chase between a couple, each individually enjoying the experience of the new Ferrari sport & luxury GT Car.
Watch the video below:
---
Luxury Motor Press thinks:
It is ever so refreshing to see the element of Grand Touring gaining its popularity back. Particularly with sleeker, improved cars such as the Ferrari Roma with added performance and technology. La Nuova Dolce Vita, indeed. (meaning "The new good life")
Tell us what you think of the Ferrari Roma in the comments below.