Year-end review - India's Top Luxury Car Brands - Segment 3
As we continue this year-end review segment, we waste no time in its introduction now as we begin with the various British luxury car marques. Namely, a few that come to mind include Aston Martin, Rolls-Royce, Bentley, Jaguar and Mclaren amongst others.
Aston Martin
Aston Martin has had an interesting year. Their financial woes were saved by a key investor, however, were stressed shortly thereafter with a disappointing IPO. This then meant their product had to help keep them operational, resulting in the launch of the likes of the stunning DBX SUV. Of course, then the Coronavirus arrived and further posed challenges.
Now with a lot depending on the success of the DBX SUV, Aston Martin certainly has their work cut out for them. In the interim, a few special edition versions of their popular cars were launched.
Aston Martin Vantage Roadster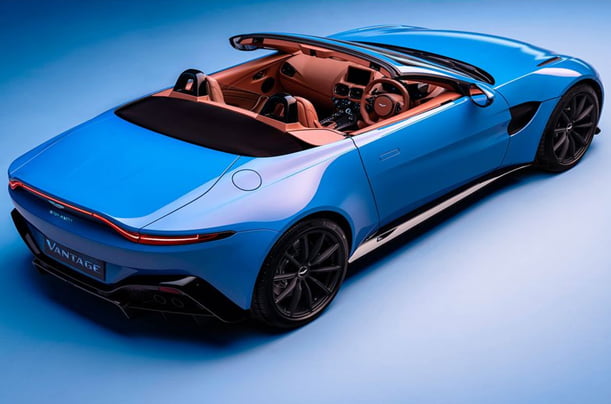 Aston Martin took the roof off its Vantage coupe. It's soft top retracts in a record 6.7 seconds, while adding just 60 kilograms to its overall weight. Powering this beautiful convertible is a twin-turbo V8 engine producing 510 hp and 685 Nm. 0-100 km/h in 3.8 seconds with a top speed of 305 km/h with the top down.
Aston Martin DBX 'Q' Treatment
Aston Martins' 'Q' department modifies the already good looking DBX SUV with darker elements. 22 inch blackened rims, custom diamond stitched interior options along with carbon fibre in-laid in the center console are just some of its features.
Delivering a technical finish to the car's interior, the central piece is machined from a solid block consisting of 280 individual layers of carbon fibre, laid meticulously by hand.
Aston Martin DB11 'Shadow' Edition
Aston Martin adds yet another dark themed variant to its line-up. This time with the Aston Martin DB11 'Shadow' Edition. Limited to 300 examples, this supercar is offered only in the DB11 Coupe and Volante models. Many 'black' exterior and interior panels including gloss black wheels provide its darker dimension.
Its 503 hp V8 engine remains untouched with prices starting at USD 222,600.
Aston Martin V12 Speedster
Despite their up and down financial position, Aston Martin has always had a sense of occasion with their model launches. Adding to this is the bold and all-new V12 Speedster. A 700 hp, 2 seater with no roof, providing extreme thrills for sure. Mated to an 8-speed ZF transmission, its 5.2 litre V12 helps achieve 100 km/h times of just 3.5 seconds and a top speed of 300 km/h.
Only built in a limited run of 88 units, prices for this special model start at USD 940,000.
---
Bentley
Making its boldest statement yet, Bentley announced that every model of theirs will be electric beginning 2030. That is just about a decade away and we find the British luxury car company leading the field.
A busy year was seen by the company with the new Bacalar two-seater and Flying Spur V8 models introduced amongst others.
Bentleys flagship Mulsanne reaches the end of its production and with it comes this special sedan. Named after its 6 ¾ litre engine capacity that has been in production for 60 years, the Mulsanne 6.75 Edition brings added customisation elements from the house of Mulliner.
Bespoke interiors with plenty of chrome elements highlight the cabin.
New Bentley Continental GT Mulliner Convertible
The popular Continental GT model now gets the Mulliner treatment in convertible form. Taking the top off, one sees an exquisite interior, hand-stitched with intricate patterns and plush comfort for its passengers.
Unique contrast shades and the Mulliner experience means no two convertibles will be the same.
Bentley Mulliner Bacalar two-seater
Adding to their grand touring specialty, Bentley introduced the Mulliner Bacalar to the world. Making it truly exclusive with only 12 examples, this convertible uses 3-D printing technology with materials like carbon-fibre and aluminium.
Powering the Bacalar is a 6.0 litre W12 engine that churns out a massive 659 PS and 900 Nm of torque transmitted to all four wheels. Already sold out, each of these was at a claimed price of $1.9 million.
New Bentley Bentayga
Available in V-8, W12 and Plug-in-hybrid powertrains, the Bentayga SUV gets a refreshed exterior. Over 20,000 units have been sold since its launch, obviously striking a solid case for the likes of luxury performance SUVs across the globe.
Its interior gets updates too with new seat cover designs. A touch-screen tablet for 2nd row passengers and an optional 1780 watt Naim audio system combined with a higher resolution center console screen adds new technology.
Like most Bentleys, the available Mulliner customisation program allows for bespoke choices to tailor-make your very own Bentayga. Prices are expected to start at INR 4 Crore (ex-showroom), once bookings begin.
---
Rolls-Royce
The house of Rolls-Royce needs no introduction. Always setting the tone for luxury with their launches, this year Rolls-Royce introduced its 2nd generation Ghost amongst other announcements.
2nd generation Rolls-Royce Ghost
After 11 years, Rolls-Royce brings the very recognisable Ghost in a new avatar. Longer, wider and taller, this 2nd generation Ghost is designed with keeping added comfort in mind. It's exterior has the signature imposing Rolls-Royce grille, now with slightly more squarish headlights.
The interior offers a tremendous amount of technology and luxury, with power assisted doors and over 100 kgs of acoustic insulation offering pin drop silence. The 'Starlight headliner' adds 152 led lights in the roof for an ambience of the night lit sky.
Powering this 2.5 tonne luxurious behemoth is a 6.75 litre V12 engine capable of producing 571 hp and 850 Nm of torque. The result? 0-100 km/h in an incredible 4.8 seconds with power delivered to all four-wheels.
Priced from approximately INR 6.75 Crore (ex-showroom), the new Ghost will be a sight to behold once on the roads next year onwards.
Rolls-Royce Cullinan Black Badge
One might assume that owning a Rolls-Royce is exclusive enough in the world. Apparently the team at Rolls-Royce seem to believe there is still one more level of clientele. Those that order from the bespoke 'Black Badge' fleet of Rolls-Royce Cars.
Matched to its name, the cars typically offer darker themes, including a tinge on the 'spirit of ecstasy' hood ornament. In this particular case, Rolls-Royce launched the Cullinan SUV Black Badge to the Indian market at a price starting from INR 8.5 Crore (ex-showroom).
This offers a host of bespoke interior and exterior trim details. Additionally, power has been upped to 600 hp and 900 Nm of torque from its 6.75 litre-V12 engine.
---
Jaguar
TATA owned Jaguar seems to be progressing well in the world of electric automobiles. Now confirmed for India, the 2021 i-Pace Cars will make for an interesting addition to their model line-up. As well as to the market itself where it seems increasingly obvious that manufacturers are supporting the cause for electric mobility.
While the brand has kept its fleet relatively similar during this past year, there has been some news to speak of.
Jaguar F-Type facelift
Jaguar have always been known to make beautiful cars. More recently, the F-Type easily fits this description and has now received a facelift. In this case, it appears to be more significant with sleek new lower headlamps seen and a generally newer front face. New infotainment and digital instrument clusters are added as well.
Offered in two engine options, the Jaguar F-Type Cars can now be had with either a 2-litre turbo-charged 4 cylinder engine or a 5.0 litre V8 engine. The four cylinder produces 300 hp while the V8 has two states of tune: 450 hp and 575 hp respectively. These will be available in coupe and convertible variants with prices ranging from INR 95.12 lakh to INR 2.42 Crore (ex-showroom figures).
2021 Jaguar i-Pace
Easily a critical announcement from Jaguar is its addition of the all-electric i-Pace to its model line-up for India. With 696 Nm of torque from its electric motors, this "family" car should propel to 100 km/h with ease! Functional aerodynamics and an optional panoramic sunroof make for a well-rounded offering by the British marque.
Plenty of in-car technology is available with the Jaguar i-Pace Cars including a heads up display, large touch screen infotainment and digital instrument cluster. To help with some sound from the car (since it will be silent), is a 16-Speaker Meridian sound system. It will be interesting to see what they price it at when it comes out in India next year.
---
Range Rover
2020 Land Rover Defender
One of the most significant launches in 2020 was the all new Land Rover Defender. A lot of pressure was resting on its shoulders, given the legendary status of its predecessor. However, the new version has been received with much acclaim and warmth across the globe.
There is a rugged exterior carried over in the new form, which is very appealing and should do well amongst Land Rover fans and gain some new customers too. Typical of Land Rover, new technology to enable it to wade through water and climb steep hills with ease.
Officially launched in India, the 2020 Defender will be available in 3-door and 5-door formats. Prices range start from INR 73.98 lakhs. Initially a 2.0 litre four cylinder engine is on offer producing 292 hp and 400 Nm of torque.
All-new Land Rover Discovery Sport
Another popular segment in India is luxury compact SUV with those wanting a good all-rounder. One that gets the daily commute, is versatile inside and can be taken off-road or on longer journeys when required. This brings us to the Land Rover Discovery Sport, launched all-new in India, one needs to see the details to understand its updates better.
The new model will be available in S and R Dynamic-SE variants. Diesel and petrol variants are available with prices for the diesel ranging between INR 57.06 lakh and INR 60.89 lakhs. Interestingly, the petrol variant is said to be a mild hybrid making way for new powertrains going forward. (Electric, perhaps?!)
While its engine may not seem fulfilling for this segment expectation, it is hard to argue on the Discovery's level of off-road ability and general design and comfort.
---
LUXURY MOTOR PRESS thinks:
The British marques have done a good job in terms of product introduction this past year. What do you think? Tell us your favourite in the comments below.