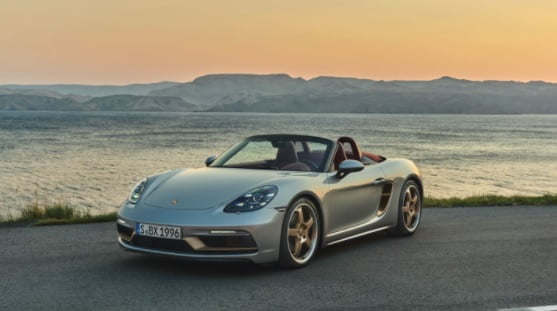 In the mid-90's economic factors meant it was a difficult period for the auto industry. More so for sports car manufacturers, given their limited audience. Porsche, as a sports car manufacturer at the time faced a similar challenge and took a risk with the design and presentation of a concept car in 1993. The gamble paid off, with very positive responses from those that saw the car at the Detroit Motor Show.
So much so, that directives were made to produce a car as close to the concept car as possible. And thus, in 1996, the Porsche Boxster was born that would change the fate of the company.
The original Boxster was offered with a 2.5-litre boxer engine that grew to 2.7-litre engine eventually progressing to 3.2-litres in cubic capacity as it aged. We now sit 25 years later and Porsche has just launched a limited-run as a homage to the original Boxster.
Now with a 4.0-litre flat-six engine, this anniversary edition produces 395 hp and has a top speed of 293 km/h. Offered with a PDK gearbox, 0-100 km/h is said to be reached in under 4 seconds.
This special edition model pays homage to the beginning, as explained by Porsche designer, Grant Larson, who has been involved in the Boxster concept since day one. Watch the video below as he takes us through the journey of the Boxster over 25 years.
VIDEO: The Porsche Boxster at 25: An Homage to its Inception