Meet the ultimate classic Porsche by Singer - $1.8 million, 500 hp 911
Singer Vehicle Design (Singer) restores and reimagines 1989 to 1994 Porsche 911s for its clients. Singer does not manufacture or sell automobiles. Porsche maven Scott Blattner asked Singer Vehicle Design to create something lightweight, bewitching, and bespoke out of his 1990 964-series Porsche 911. Singer called Williams Advanced Engineering to assist, and the two parties spent two years creating the Dynamics and Lightweighting Study (DLS). Singer and Williams both bought 911s from different eras to pinpoint the best of each, then worked to infuse that entire list of allurements into the DLS.
The short story of the result is a 2,180-pound coupe with customized carbon fiber body panels and ducktail, and a 500 horsepower, 4.0-liter flat-six. The standard two-wheel-drive 1990 911 had 247 hp and weighed 3,031 pounds.
Williams put the bodywork through an F1 regime of computational fluid dynamics to enhance aerodynamics and reduce lift and drag. All of the Parallax White carbon fiber panels are changed from the original sheet metal. A new front intake and venting for the oil cooler, plus a new front splitter, is said to eliminate front axle lift. A roof channel and roof spoiler gather airflow on its way to an optimized ducktail spoiler that puts more downforce on the rear axle.
Center-lock 18-inch BBS monoblock forged magnesium wheels wear specific Michelin Pilot Sport Cup 2 rubber, 245/35 at the bow, 295/30 at the stern. They hang at the end of lightweight double wishbones in front, and aluminum trailing arms in the rear that contain integrated brake cooling. Specially developed Brembo carbon ceramic brakes and monobloc calipers handle stoppage time.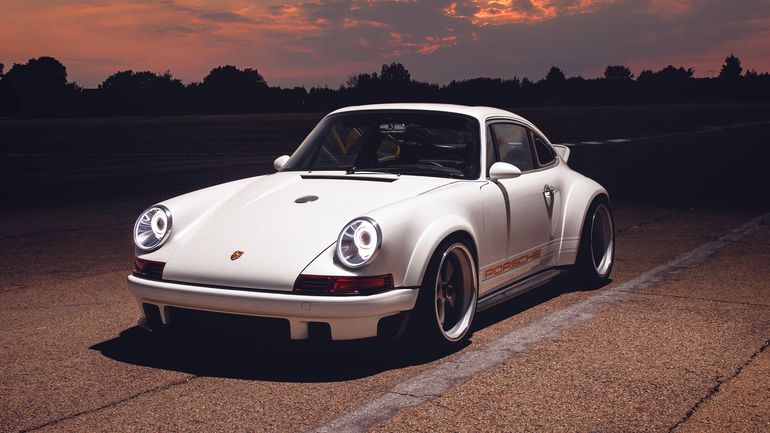 Bosch came on board to program electronic systems like the variable driving modes, anti-lock braking, traction control, and electronic stability control.
Unique carbon fiber Recaro seats and a unique carbon fiber Momo steering wheel accentuate the Norfolk Yellow interior. The raised, booted shifter gets capped with a drilled-out, carbon fiber knob, and sits atop an exposed magnesium and titanium linkage. Shift lights in the tachometer guide the cog-swapping, as if a 9,000-rpm squall wouldn't get that done. A carbon fiber dash, lightweight HVAC system, and drilled carbon and titanium pedals shave cockpit weight.
Singer says the company will make a total of 75 Dynamics and Lightweight Studies. For those interested, the price for this reimagined masterpiece is $1.8 million.