The luxurious Rolls-Royce Cullinan SUV revealed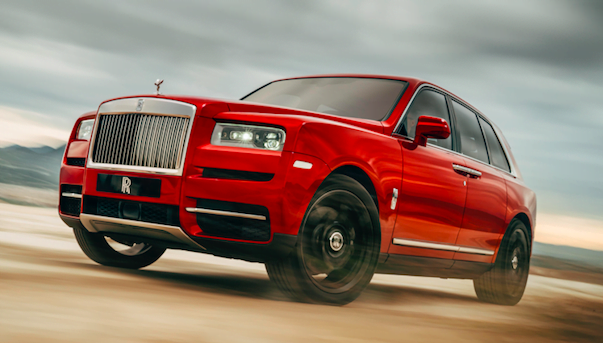 A super luxury SUV- a first for Rolls-Royce in 112 years
Uses a 6.75 litre twin-turbo petrol V12 engine
Built to be a very capable off-roader with an all new all-wheel drive system
Adding to the rather long list of Luxury SUVs from automobile manufacturers is the much anticipated Rolls-Royce Cullinan. Catering to the demand of its newer (and younger) customers, Rolls-Royce decided to add to its portfolio what they like to term a "high sided" vehicle. The Cullinan, named after South Africa's largest raw diamond certainly took its time to be seen in the flesh, typical of Rolls-Royce philosophy of wanting to take the best and make it better.
Extremely strong design lines give the Cullinan an evidently strong and powerful presence. The grille is created from hand-polished stainless steel, but for Cullinan it is set slightly proud of the surrounding bodywork that pushes it up and forward. The Rolls-Royce badge and Spirit of Ecstasy ride significantly above the line of the wing, giving them a unique vantage point.
Inside the cabin, the owner is welcomed to a luxuriously appointed row seat, however for there is also the option to order the 'individual seat' configuration. This creates a partition drinks cabinet that accommodates champagne flutes and a refrigerator. Leather and box-grain wood grace the seats and surfaces with elegance.
The central information screen is for the first time touch sensitive, allowing the driver to quickly select functions, map views and vehicle set-up whilst on the trail. This portal can still be controlled from the iconic Spirit of Ecstasy controller which nestles on the central console with the 'Off-Road' button, Hill Descent Control button and Air Suspension.
Engineered with off-road adventures in mind while still maintaining a luxurious feel, Rolls-Royce engineers designed an all new all-wheel drive, all-wheel steer system to overcome just about any obstacle. Built on the new 'Architect of Luxury' platform that the recently introduced Phantom VIII is built on, all-new aluminium sub-structure delivers extraordinary car body stiffness for exceptional 'best-in-class' functional performance on rough terrain whilst offering better ride comfort. The suspension makes millions of calculations every second as it continuously varies the electronically controlled shock absorber adjustment system – reacting to body and wheel acceleration, steering inputs and camera information resulting in the infamous Rolls-Royce 'Carpet Ride' experience. In this case, both on and off-road.
Complete reworking of the new 6.75 litre twin-turbo V12 Rolls-Royce engine to deliver just the right level of torque (850Nm) at the lowest possible revolutions (1,600rpm) creating ride characteristics for its passengers on and off-road unlike any other.
Driver aids comprise 360 degree cameras, a 7x3 heads-up display, cross-traffic warning, lane departure and lane change warning, night vision and attention assist. There is wi-fi hotspot capability, amongst a host of other creature comforts meant to pamper the owners.
Succinctly put "A Rolls in the desert is above rubies" – T.E. Lawrence