Named "Pista" - a translation given to its inspiration of the "track"

Pure performance with a 0-100 kph time of 2.85 seconds and top speed greater than 340 kph

90 kgs lighter with 50+ increase in horsepower bringing it to 711 hp
The Ferrari 488 Pista, which will be unveiled at the upcoming Geneva Motor Show, is the successor to Ferrari's V8-engined special series - the 360 Challenge Stradale, 430 Scuderia and 458 Speciale.
The car's development evolved directly from the company's involvement in the FIA World Endurance Championship – in which it has won five Manufacturers' titles in the GTE class in the six years since the series' inception – and its 25 years' experience in running the Ferrari Challenge one-make series.
The Ferrari 488 Pista's extensive weight saving solutions, along with engine, vehicle dynamics and aerodynamic developments, all derive from Ferrari's racing cars: the 488 GTE and the 488 Challenge. The result is a car that offers impeccable track-like performance on and off the road.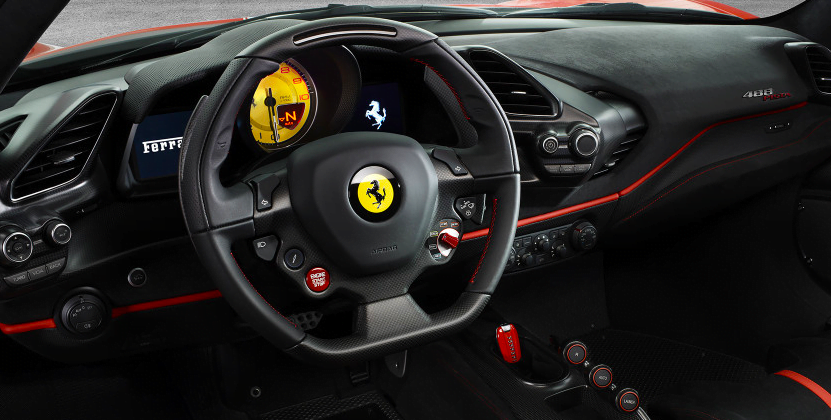 The new model weighs an impressive 90 kg less (1280 kg dry) than the 488 GTB. This fact, combined with the largest ever increase in engine power for a special series car (+50 hp), sets a new benchmark for Ferrari's V8 sports cars.
It punches out 711 hp with the highest specific output of in its class and is now lighter too, thanks to solutions adopted from the 488 Challenge. As a result it has a top speed of 340 km/h and sprints from 0-100 km/h in 2.85 seconds and 0 -200 km/h in 7.6 seconds.
It would appear as though the 911 GT3 RS from Porsche may have just found some serious competition with this very special model from the stables of Maranello.