Year End Review - India's Top Luxury Car Brands - Segment 2
In continuation of our series on India's Top Luxury Car Brands, we bring you launches from Italy, well known for its' 'Motor Valley' hub. The likes of Ferrari, Lamborghini, Maserati and Pagani come to mind, typically received with much enthusiasm and emotion with every launch.
---
Ferrari
As a brand, it is hard to get past just how powerful a following the Maranello based supercar company garners. As if 2020 didn't bring with it enough challenges, Ferrari, known for their Formula1 competitiveness just couldn't get any momentum to challenge the likes of team Mercedes and Lewis Hamilton. In 2021 though, with fresh talent and (hopefully) a car that can deliver, there may be hope just yet.
In terms of production models, Ferrari in India announced pricing for its Grand Tourer Roma and successor to the 488 GTB - F8 Tributo Supercars.
Ferrari Roma
Elegance isn't the first thing that comes to mind when you speak of supercars, however in the case of the Ferrari Roma, it definitely personifies this attribute. Its silhouette is graceful and with its front-mid V8 engine placement, offers a good amount of performance while combining the practical elements needed of a grand tourer.
A 3.9-litre turbo V8 engine spools the car up to 611 hp and allows for a very brisk 0-100 km/h in just 3.4 seconds. Helping transfer this much power to its rear wheels is an all new 8-speed dual clutch transmission.
Price from INR 3.61 Crore(ex-showroom) before you add any options, it does seem pricey but you definitely get to experience what it means to be part of the prancing horse family!
Ferrari F8 Tributo
Succeeding an already successful model is never easy. Yet, Ferrari has done it once again with the F8 Tributo succeeding the legendary high performance 488 GTB supercar. At 720 hp, this Ferrari F8 Tributo supercar released as its most powerful "non special" Ferrari.
Plenty of F1 technology incorporated including titanium rods in the engine as well as virtually zero turbo lag. A number of aerodynamic benefitting exterior design elements helps with reducing drag and improving handling.
0-100 km/h in just 2.9 seconds and a top speed of 340 km/h makes this a road car designed for the race track. The price for this performance supercar starts at INR 4.02 Crore(ex-showroom).
Ferrari SF90 Spider
Symbolic of 90 years since Ferrari began its journey, the company launched the SF90 Stradale Supercar. With its hybrid engine and typical high-performance figures, it was a symbol of what is possible to lead the field. Furthering this cause is the Ferrari SF90 Spider. An open-top variant with an earth shattering 1000 hp from its combined hybrid V8 engine. This translates to reaching 100 km/h in just 2.5 seconds with the roof down!
This performance arrives in global markets at a starting price over half a million USD and we await to see what it might work out for in India.
---
Maserati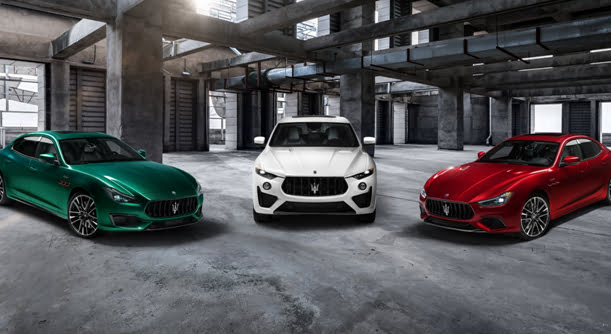 Maserati was always a little overshadowed by Ferrari since Fiat Chrysler took over and Ferrari began supplying engines to them. However, more recently the brand seems to be coming into its own. More precisely, adapting to new standards and trying to future proof themselves with steps towards electrification as well as producing a halo supercar.
A lot of buzz and excitement was generated this year with the launch of the all-new Maserati MC20 Supercar with a sensational live launch event aired online across the world.
Other notable launches included some special edition variants of the current model line-up as well as a high performance Trofeo series for their entire model range.
Maserati Ghibli Hybrid
Maserati resurrected the Ghibli name from the 70's when it introduced its entry-level sedan to the world. Since then, they have achieved decent sales with both petrol and diesel variants. With their "Innovation lab" now creating products in-house, Maserati has chosen to take a step towards electrification with the likes of a hybrid variant.
Using an electric supercharger combined with its 2.0 litre turbocharged engine, this new Ghibli Sedan produces 330 hp and 450 Nm of torque. This results in a sub-6 second time to reach 100 km/h. Thankfully there are no changes to its legendary exhaust note characteristic, despite being a hybrid.
Maserati MC20
Easily the most anticipated launch for 2020, amidst challenging times around the world Maserati revealed their supercar MC20, completely developed in-house. MC stands for Maserati Corse while 20 refers to the year 2020. Maserati is known for its beautiful designs and shapes across its entire line-up and the MC20 carries this tradition.
A typically aerodynamic profile allows for excellent airflow while a unique high-performance engine compliments its overall design.
The engine, nicknamed "nettuno" uses Formula1 technology in its combustion process. Specifically, using a pre-chamber pre-ignition process where the fuel burns more efficiently under high application conditions. Keeping things compact is a 3.0 litre twin-turbo V6 motor positioned in the rear producing 620 hp.
This succeeds the popular front-mid engine naturally aspirated 4.7-litre unit used on the Gran Turismo. 0-100 km/h in the MC20 is reached in 2.9 seconds with a claimed top speed in excess of 325 km/h.
---
Luxury Motor Press:
Do you like the Maserati MC20 design? Particularly given how edgy, modern and bold current supercars seem to be getting? We like the supercars fairly conservative well-rounded appearance and especially like the use of F1 technology in leading the way for future compact, high performance engines.
Let us know your thoughts in the comments below.
---
Lamborghini
While Bolognese sauce presents itself at many restaurants across the world, what Sant'agata, Bologna gave the world more importantly is Lamborghini, particularly the Miura. Since then, they have continued to produce some really eye-catching models and furthermore some outrageous one-offs as well. Their Urus SUV continues to maintain excellent demand since its launch.
This year in terms of production model reveals were variants to the ever popular Huracan. Models included the Huracan Evo RWD, Huracan EVO Spyder RWD and Huracan STO. In terms of outrageousness, we find the Aventador SVJ and one-off SC20 definitely fit the bill.
We feature the Aventador SVJ and SC20 as truly noteworthy this year.
Lamborghini Aventador SVJ
Launched just before the lockdown and with its first customer allocated, Lamborghini introduced its SVJ model at a starting price in excess of 6 Crores. Active aerodynamics, super light Nireo aluminum alloys and plenty of carbon fibre makes this one serious hypercar of consideration.
Performance for the Lamborghini SVJ is derived from a signature V12 engine producing 760 hp and 720 Nm of torque. This means 0 to 100 km/h in just 2.8 seconds and a top speed of 350 km/h. With angular edges across, the car isn't designed just for looks, but each element has practical applications, assuming the car does in fact visit a race track.
Lamborghini SC20
One lucky customer had the opportunity of creating their dream supercar via inputs and discussions with Lamborghini's motorsport division - Squadra Corse. This resulted in a very special one-off called the SC20, essentially a roadster, given it has no roof. Impressively, high performance is still maintained with its V12 motor producing 770 hp and 720 Nm of torque.
Added unique elements include a white color created for the customer – adorned with Blu Cepheus livery. Certainly a visceral experience without the front windshield and roof for protection!
In conclusion, despite challenges the world over, some significant announcements were made from Motor Valley in Italy. We were glad to see the quick recovery of the industry and look forward to their 2021 calendar of new cars.
We continue this series with our next segment of launches soon.
Which of the above cars made it to your favourite list? Let us know in the comments below.