The first Black Badge collection from Rolls-Royce
Only 70 cars will be built - 40 Wraiths and 30 Dawns
First time in history for the Spirit of Ecstasy made with machined carbon fibre.
The Bespoke Collective of the House of Rolls-Royce has conceived a darker iteration of Black Badge Wraith and Dawn, presented in a limited Collection, named Adamas. Drawing inspiration from the name, meaning 'untameable', 'invincible' and also 'diamond', the Collective celebrate the darker side of contemporary craftsmanship, expertly weaving a dark aesthetic of unbreakable carbon structures into just 40 Black Badge Wraiths and 30 Black Badge Dawns. Technical fibres and molecular compounds are manipulated and recognised for their systematic, beguiling beauty.
The Spirit of Ecstasy is taken from the edge of darkness, into the black, formed for the first time in history out of machined carbon fibre. The entrancing figure is engineered from 294 layers of aerospace grade carbon fibre, which takes 68 hours to produce with a technical weave angle of precisely 25 degrees.
Exterior colour options include a hypnotic Aphrodite Red over Black and Morpheus Blue over Black two-tone respectively. These are the first two-tone Black Badge cars. Naturally, Rolls-Royce patrons are able to specify their chosen Adamas in either colourway.
Once inside, a clock, encrusted with black diamonds catches the eyes immediately. Harnessing the carbon structure, 88 laboratory-grown diamonds form the Black Badge infinity symbol. The interior of the diamond theme goes a step further on the starlight headliner of Wraith Adamas. 1,340 individual fibre optic lights are configured as though forming the molecular structure of carbon as it becomes a diamond, presenting a motif reminiscent of a powerful spine running through the interior cabin.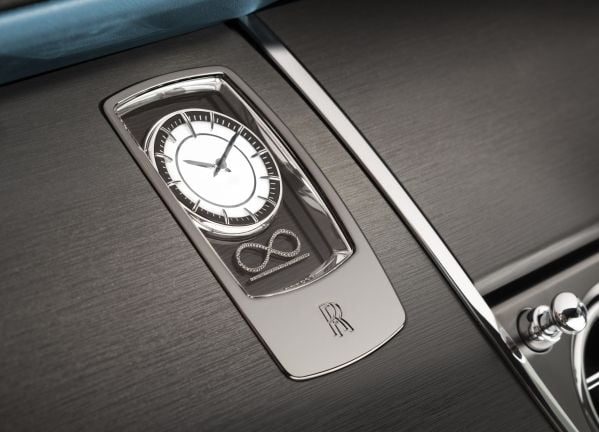 As a final touch, when one enters or alights from the atmospheric cabin of Adamas, one encounters an illuminated tread plate, reading either 'Black Badge Wraith Adamas – One of Forty' or 'Black Badge Dawn Adamas – One of Thirty', reminding the occupant of the power and precious nature of this Collection.